The Athens Motorcycle Accident Lawyer
Helping You Pursue the Compensation You Deserve
According to the Insurance Institute for Highway Safety, there were nearly nine million registered motorcycles on the road in 2014. In fact, the government estimates the number of deaths on motorcycles was over 27 times the number in automobiles in 2014, per mile driven. The culpable party who causes the death of a motorcycle rider or the severe injury of a motorcyclist needs to be held accountable for their wrong doings.
Our Athens motorcycle accident attorney at The Law Office of Joshua W. Branch, LLC has experience dealing with cases like these, and has the knowledge to fight for the fair compensation you deserve in these unfortunate instances.
Reach out to us today to find out how we may be able to help in a free initial consultation.
Causes of Motorcycle Accidents
The danger of these accidents is exacerbated by the fact that motorcycles are less stable and less visible to other drivers than cars. Not surprisingly, the most common time for fatal motorcycle accidents is between 6 p.m. and midnight, when visibility is low. Additionally, about 1,700 fatal motorcycle accidents were single-vehicle crashes in 2014, with an estimated 43 percent involving alcohol use. The effects of a motorcycle collision can create a nightmare for victims and their families, but we fight to get fair compensation and provide legal guidance for those in the Athens area.
With the high-performance capabilities of motorcycles, the most important safety precaution for riders is helmet use, which is about 67 percent effective in preventing brain injuries during a crash. Still, of the 4,295 people killed in motorcycle accidents in 2014, 62 percent were wearing helmets at the time of the crash. The open roads of Athens and Northeast Georgia offer beautiful scenes for riders, but in the event of a wreck, it is important to contact a trusted motorcycle accident attorney in Athens like Joshua W. Branch.
What is the Motorcycle Helmet Law in Georgia?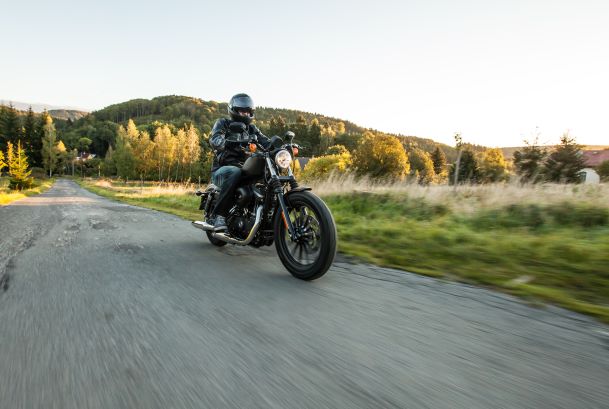 Many motorcyclists believe that wearing a helmet is a personal choice, but the law says otherwise. Under section 40-6-315 of the Georgia Statutes, all motorcyclists are required to wear a helmet and protective gear unless the vehicle meets certain strict exceptions.
For example, 3-wheeled motorcycles used strictly for agricultural purposes, vehicles with enclosed cabs, and motorized carts do not require the operator to wear a helmet.
According to the Insurance Institute for Highway Safety, helmets are around 37% effective at reducing motorcycle accident deaths. Helmet use can not only save your life, but it could also come into play if you are trying to seek compensation for an injury. For example, if you suffered a head injury in a motorcycle accident but were not wearing a helmet at the time of the crash, it could be argued that because you were in violation of the law, you should not be covered for your injuries. An attorney can help protect you in this scenario and fight for the full compensation you need during your recovery.
Let The Law Office of Joshua W. Branch, LLC Help
You need someone who is dedicated to justice for you. Someone that will protect your rights, someone that will aggressively work for a fair and reasonable outcome for you and allow you to be able to return to the life that you knew before the incident that was forced upon you. Not an outcome that the insurance company will attempt to force upon you but one that is fair and lets you obtain the justice you need and deserve.
Call our Athens motorcycle lawyer at (706) 760-9220 if you are ready to take the first steps towards fair compensation to return to the life you loved before your terrible accident.
Josh came through for me and completed what I was thinking was impossible. - Gwen, Personal Injury Client

If there were more people like you in this world, it would be a better place. - The H. Family

You don't just get an attorney, you get a friend. - Gina, Former Client

Thank you for all you have done for me! - Lizzie, Personal Injury Client

What do I say to the most amazing attorney I've ever known. You have been more than an attorney. You have been a friend, and a very good listener. - Veda, Personal Injury Client
Millions of Dollars Recovered
for Our Clients
$1,500,000 JB Client vs. A.O. Brickman

The client was severely injured by a negligent driver and the at-fault insurance company had policy limits.

$1,050,000 JB Client vs. Corporation

The client was severely injured by the acts of a corporate employee in a horrible motor vehicle collision.

$700,000 JB Client vs. Trucking Company and Fabricating Company

The client was severely injured during a serious collision.

$650,000 JB Client vs. Pizza Delivery Franchisee

A texting pizza delivery driver caused the death of our client's spouse.

$650,000 JB Client vs. Individual

$650,000 JB Client vs. Negligent Driver

A collision between a negligent driver and our client resulted in serious injuries for our client.

$605,000 JB Client vs. Home Health Care Company

A horrible and tragic event when the mother of our clients was under the care of a home health care company

$580,000 Confidential Parties

Hazardous danger to our client when they collided with a tractor-trailer that was left in the roadway wherein no one could notice.

$550,000 JB Client vs. Negligent Individual Driver

The client sustained severe injuries and then had additional complications.

$525,000 JB Client vs. Georgia Medical Transportation, Inc.

Client was not properly secured while in transit and was thrown out of his wheelchair and sustained orthopedic fractures.
Personalized Approach

We pride ourselves on providing personalized client care with tailored solutions.

Reputation for Excellence

We are proud of our legacy of positive client testimonials and recognition in our community.

Commitment to Clients

Our passion for helping clients recover from personal injuries is the core focus of our firm.

Fearless Advocacy

We are not afraid to go to trial and we will fight to get the best possible result for our clients.
Take Your First Step Towards Justice
The Law Office of Joshua W. Branch, LLC has successfully helped thousands of injured victims receive the justice they deserve.